This free next generation eTicketing IRCTC App for Android and iOS devices is a one-stop app for all your Indian Railways and IRCTC enquiry needs with the most elegant, thoughtful and easy-to-use UI. Indian Railways train reservations can be done effortlessly through this app. This amazing app is aimed at enhancing the user experience on IRCTC booking and enquiry.
PNR Status
The app boosts of fast PNR Status checking using an assigned PNR no. providing the current status of your reservation. The app is a lot easier and quicker than other Railways sites.
Search Train
The feature allows you to search trains between stations by providing the date of journey. You can search any Indian Railway train online. It is a must have app for any train traveller in India.
Fare Enquiry
Get train fare enquiry online on this app to know the current status of ticket fare on any class. It has an easy-to-use UI to enquire about the train fare and schedule.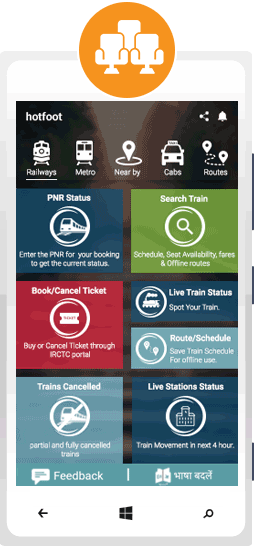 Seat Availability
Indian Railways seat availability can be checked easily online via IRCTC app. It provides all train seat availability along with selected reservation classes for any valid date.